Who does not dream of the ideal house?
Many achieve this important objective through bathroom remodelling, an action that arises after observing and demonstrating that our house's aspects deserve to be transformed or improved due to their uselessness, bad colour, or deterioration, which if not attended to in time will worsen.
From experience, it is known that bathrooms earn a large percentage in this matter of remodelling, which is why this article seeks to guide you so that the result of this crucial decision is satisfactory, elegant, authentic, and lasting.
Imagine the bathroom remodel as you want it
This meaningful work must begin with reality and imagination, that is; observe and create a list of what you DO NOT like about your bathroom, that small but important aspect will help you not to make mistakes. Then imagine and be inspired by what your ideal bathroom would look like and make another list, comparing them to each other so that there is no aspect (that you don't like) of the old bathroom. This environment of bathrooms remodelling deserves special attention because the characteristics and limitations of the bathroom space must be considered: humidity, steam, ventilation, dimensions, and a light source that will require the guidance of experts and professionals who, among other things, will advise you on the Optimum materials to give durability to the new design and avoid quick and expensive repairs.
Whatever design you have planned for your bathroom, the best option will always be natural stone, as any of its types will immediately add a touch of elegance and durability and increase the cost of ownership. There is so much variety of textures, colours, and designs that will undoubtedly lead you to find the one that satisfactorily reflects what you imagine and turns it into reality. For example, perhaps you want elements that give a touch of elegance to your bathroom, and you are thinking of sinks integrated into the countertop, what should you take into account? in that it is integration, both become a single piece so when they advise you or buy, you must be very careful because often, it is glued and not integrated and when installed it loses the effect of being a single piece.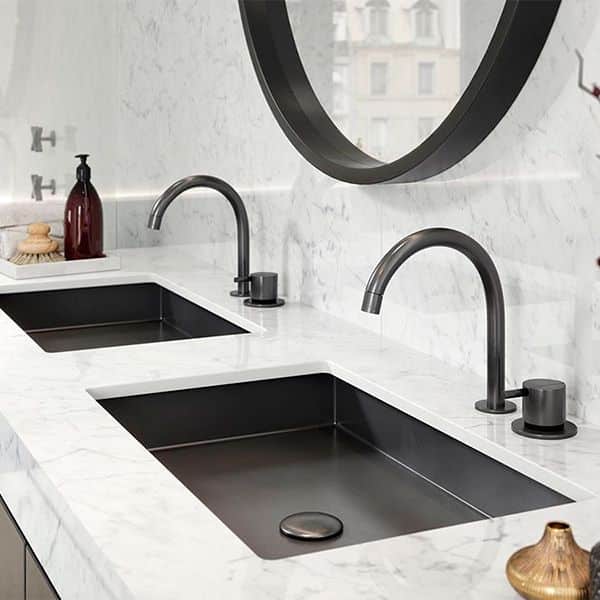 The Size of the Countertop
Also, remember that the size of the countertop will always depend on the size of the sink you are going to use, so the sink is essential to choosing the design and size of the countertop. Furthermore, if space allows, not one but two sinks or plus size can be built, expanding the use of space for two people at the same time.
Now, if it is a small space and you consider that it may be a limitation to create the bathroom you imagine, you are wrong, you have an allied material: marble, limestone with a magnificent vein, it has a shiny appearance, a finish, and many colour options, that regardless of the dimensions of the space, will give your bathroom a level of luxury that no other material could, but do not spill things like perfumes or dyes, you will need a sealer, to give it more durability. In this sense, granite turns out to be a much harder and more resistant natural stone than marble, which makes it a material with great resistance to heat and possible damage or scratches, and that usually maintains its natural shine for much longer.
Now, if the space is small or quite large, the question is in the style and design you are looking for, its usefulness, and its use. Marble is usually a much cleaner and smoother material, with elongated veins that mark wavy lines in the stone. For its part, granite has a freckled appearance, full of small stones such as feldspar, mica, and amphibole. Both are easy to maintain; Of course, you must give special care to the marble before using chemical products, since it can be damaged creating permanent stains and eliminating its natural shine.
Let's talk about Quartz, resistant to stains, humidity, and scratches. Due to its absence of porosity, bacteria and microbes do not proliferate in this material, so it may well become the ideal option to remodel your bathroom at home and make that space a waterproof and hygienic place.
In short, the key is to use the correct materials according to the design, the space, the utility, and the economic resources; The latter should not worry you when selecting since the price range between one and the other is very similar, it will only vary depending on the function of the range and the exclusivity of the design, so do not allow yourself any impediment to select that countertop that will make the space you imagine today a reality.
At Canada Countertops, the specialists in the field will provide you with the best suggestions, guidance, and professional installation of your countertops, in addition to offering you a high and varied range of products for innovative, elegant, and durable renovations. Remember that the ideal bathroom countertop begins with your imagination and is strengthened by your attention to the advice of real experts who will help you make the countertop of your dreams come true.