The Surprising Supermatt Finishes for your Kitchen
When looking for an exclusive and innovative kitchen, you must look at aesthetics and materials. Beauty and functionality. That is the key.
To do this, kitchen furniture manufacturers continuously search for new materials that are more attractive and practical to make life more comfortable in that critical place in the home.
The fantastic super matt finishes stand out for their anti-fingerprint, self-regenerating properties and smooth texture.
All this means greater ease when a complete cleaning service or regular daily maintenance is required, offering a clean, modern and elegant environment for greater enjoyment in all senses.
But in addition to fingerprints, scratches and imperfections are much less noticeable than on doors with a shiny finish.
In other words, more advantages make it a highly appreciated material for kitchen furniture, even if you don't like to cook or are an excellent chef.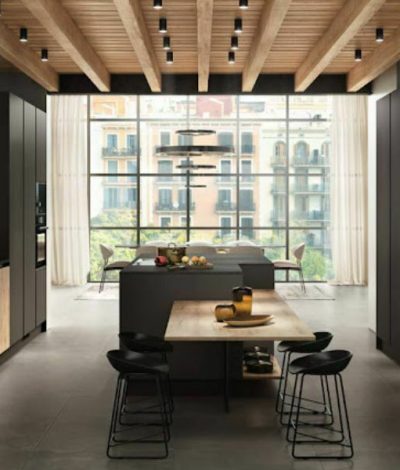 Its Raw style is a nod to the origins, to nature to wood in its original state, where its careful imperfections add value to a timeless and delicious set.
The black Tmatt Nero is a super matt lacquer that combines perfectly with TPC's Roble Nudos, a finish that looks like natural wood but without the conservation difficulties that the latter requires.
The Kitchen and its Design.
An island with a kitchen area, a work area and an attached wooden table for meals are the leader of the room.
It has a storage area with doors, drawers and pot drawers on both sides, and decorative shelves at the ends, thus avoiding the feeling of a monolithic block.
On the one hand, the laundry area is located on one of the walls, with the sink under the countertop on a large work surface and cabinets with wooden doors.
On the other hand, the multifunctional niche covered in Nudos Oak stands out, which is located symmetrically between storage columns with removable fittings that undo the monotony of that sector.
As for the handles, incorporate a black groove system that gives it a clean and simple appearance and that, with the skirting boards in Tmatt Nero, reinforces its minimalist form.
The gray cement floor and abundant natural and ceiling lighting give the final touch to make this kitchen a dream that can be enjoyed.