A laboratory is any space that has the means, equipment and all the necessary utensils to carry out activities of a scientific nature, in which experiments and investigations can be carried out.
Laboratories have different types of countertops, in general, they can be made of wood or steel, the first ones are durable, but they can be considered a bit unhygienic if they are not well-finished.
The steel ones are easy to clean, and sterile, so they are really the most used, however, there are other materials that can be used to make your laboratory look different from the others, but the countertops fulfill the function required.
Types of Countertops for Laboratories
Due to the work done both in labs and on benchtops, most of these countertops are made from industrial materials like stainless steel, so they are really durable, hygienic, and good looking too.
However, depending on the type of laboratory we are referring to, they can use other types of materials that are much more attractive and have excellent qualities, which include being easy to clean
Porcelain Countertops for the Laboratory
This treatment allows them to be more durable since they are made with a large number of manufacturing processes so that they are strong enough to work in your laboratory without any problems.
A porcelain countertop is very easy to clean, it does not stain easily, but it is delicate, so it is especially suitable for laboratories that work with microbiology or dental or pharmaceutical products that do not use too much weight on the countertop, but They should look flawless.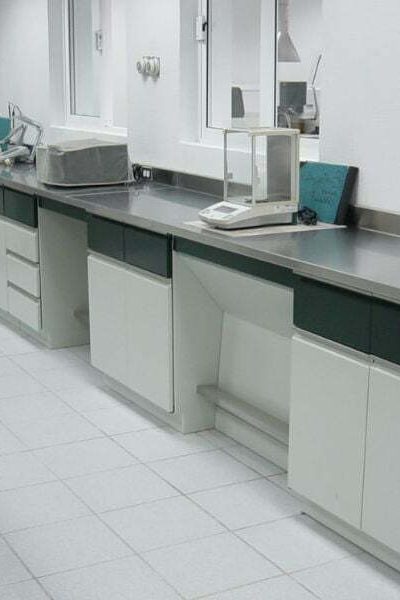 The porcelain countertop for the laboratory is characterized by being formed by a mixture of different natural minerals that are subjected to high temperatures and pressure to obtain a high-quality final finish.
Although porcelain countertops are quite resistant, if heavy items are handled in your laboratory, it would be better to work with granite countertops, as they are more resistant to heavy weight.
Granite countertops are highly durable and come in exciting colours like white, beige, and gray.
Granite resists high temperatures very well, it is ideal for quality control laboratories, and also for school laboratories, since these countertops resist all the work that can be done on them very well.
What should you consider when buying a laboratory countertop?