How to fix a kitchen countertop according to its material
Whether it's made of wood, granite, melamine, or porcelain, your kitchen countertop goes through a lot with all those cooking adventures. Sometimes, the solution isn't just a replacement – repairing it can be a smart move. If you've ever wondered how to fix a kitchen countertop, well, it's not just one answer, but a whole bunch! The solutions vary depending on the material it's made of and the kind of wear and tear it's seen. We're here to spill the beans on all of them in case you're feeling brave enough to give it a shot!
This cutting-edge material is the star in kitchens, imitating natural stones without the maintenance. But what happens if stains or streaks appear? Don't worry! For stains, use degreasing cream cleaners. If streaks appear, evaluate the origin and act accurately. What if a corner comes off or breaks? The adhesives recommended for granite and quartz are your solution. Keeping your countertop in perfect condition is easier than you think.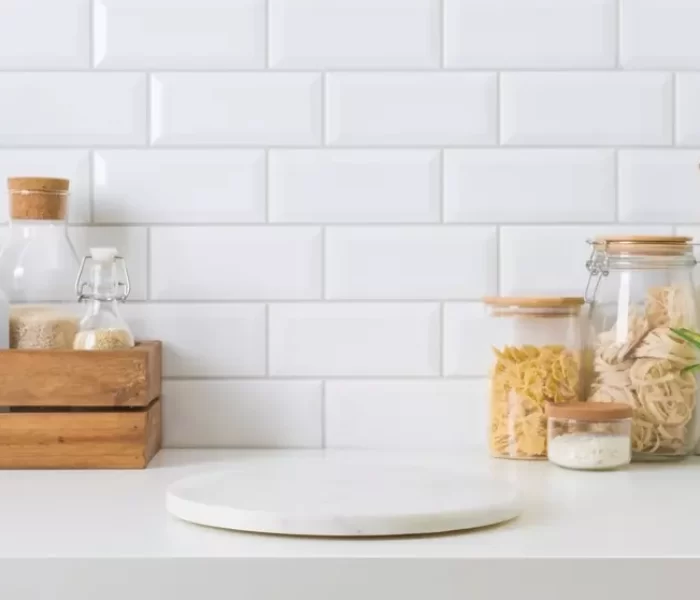 Fix Solid Wood Countertop
These wood countertops radiate warmth, but they need care. Water can wreak havoc. For swollen parts, sandpaper and varnish. Deep stains can be darkened with stain, or simply sand and varnish if they are on the surface. And if you see grooves, sand lightly and apply a new varnish. Keeping your countertop looking new is easier than it seems!
Fix Compact Quartz Countertop
Quartz is the star of kitchens! If you find scratches, something unusual but possible, trust a marble expert to polish them and restore their shine. For broken fragments, evaluate the size and design; In some cases, a good glue can work wonders. As for stains, although rare, degreasing cream cleaners are usually your allies. Keep your quartz countertop radiant and ready for action with these handy tips and a touch of love!
Fix Granite or Marble Countertop
Marble and granite are stars in modern kitchens, but time can leave its mark. What to do to fix them? If you have loose fragments, a strong adhesive is your friend. For superficial stains, a hand polish can work wonders. And shallow scratches can disappear with the help of a marbler or with a special polish to restore shine. Keep your countertop sparkling and functional with these simple tips.
Melamine Countertop Restorer
Melamine countertops are durable, but over time they can use a little love. How to fix them? If they look worn, a colorless oil can restore their shine, or apply a semi-opaque varnish. For small holes, use ceramic caulk and paint it in the color of the countertop. Streaks are common, but you can hide them with special markers. Keep your countertop looking new and full of life!
At Canada Countertops, we are your best ally in the world of countertops. We know all the solutions to keep your space impeccable. Get to know us on our social networks and discover how we can help you keep your countertop in perfect condition!