The Best Beautiful Colour Contrast of Marble in the Kitchen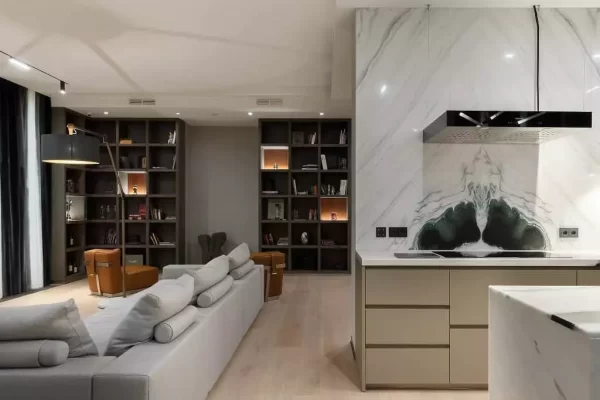 The Panda white marble countertop, with a white background with large black veins, harmonizes perfectly with the full-height front wall of the same material.
Its name comes from the black and white contrast reminiscent of skin and combines classic and timeless colours.
And it is, in addition to its undeniable functionality in the kitchen, the natural stone countertop provides a unique and personal touch to any design and environment.
It also offers the possibility of forming almost symmetrical figures on the cooking area and the island itself, as in the case of this kitchen.
At Canada Countertops we can help you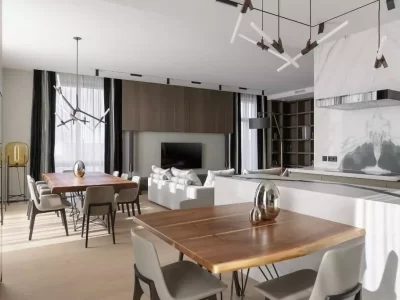 The composition of this kitchen consists of three walls, an island, and a table for daily meals. Each wall has its specific function. On one side, the columns facing the kitchen area house an extensive wine cellar with dark glass doors for select wines.
Next to it, on the perpendicular wall, the column set is located, including integrated ovens and refrigerators.
On the main wall, a long work surface predominates, including the sink and cooking area. Underneath, drawers and pots allow ample storage, along with the built-in dishwasher.
Meanwhile, the island is exclusively designated for storage and workspace. Adjacent to it, a comfortable table with a wooden top and black metal base accommodates three diners for quick dinners and meals.
The Materials and Finishes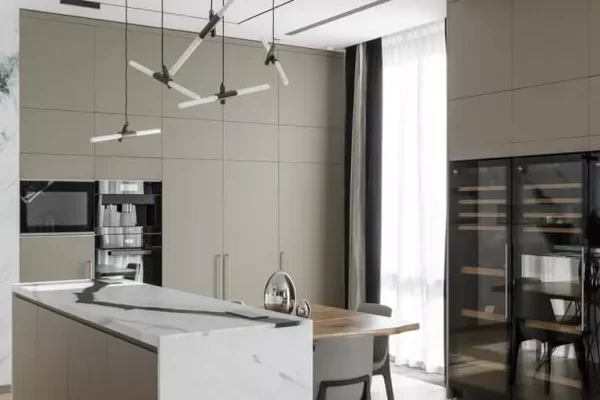 Neutral colours in warm tones of beige and gray predominate throughout the living room and the kitchen. An open space where the striking luminaires are the protagonists.
The structure is with an aluminum edge, while the doors and fronts are finished in Laminate. All the finishes of the structure and doors are personalized in this wonderful kitchen.
For its part, the marble countertop also recovers the island on its sides and back. This also gives you an unmatched minimalist, homogeneous block look.